NUT MIX - Roasted & Salted
Do you love a great hand full of mixed nuts? Crunchy and tasty.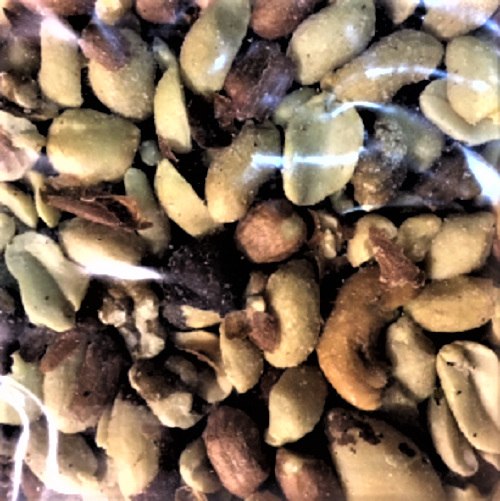 Mixed nuts are a snack food consisting of any mixture of mechanically or manually combined nuts. Peanuts (actually a legume), almonds, Brazil nuts, cashews, hazelnuts (filberts), and pecans to make the mixed nuts. Mixed nuts may be salted, roasted, cooked, or blanched.
Nuts are a healthy and are high in healthy fats, protein and fibre
Each nut variety contains its own unique combination of nutrients and is generally rich in a few nutrients such as:
Almonds: protein, calcium and vitamin E

Brazil nuts: fibre and selenium: just two brazil nuts a day provides 100% RDI for selenium for an adult

Cashews: non haem (plant based) iron and a low GI rating

Chestnuts: low GI, fibre and vitamin C (although much vitamin C is lost during cooking)

Hazelnuts: fibre, potassium, folate, vitamin E

Macadamias: highest in monounsaturated fats, thiamin and manganese

Pecans: fibre and antioxidants

Pine nuts: vitamin E and the arginine amino acid

Pistachios: protein, potassium, plant sterols and the antioxidant resveratrol

Walnuts: alpha linoleic acid: plant omega 3 and antioxidants
Nuts are naturally low in sodium, contain potassium and most contain some carbohydrate in the form of natural sugars.
Size: 5 Kg Carton
Category: Nuts
Colour: Roasted & Salted
Country: Made in Australia from local and imported ingredients
Per kg: $15.60
Why not try the below dispenser to store and dispense your Nuts